LEAP's inventive developing team has recently partnered with INEOR, to produce 'GOOOAL' – a high-end 3D virtual football lottery game with seamless gameplay, for Swisslos, online gaming platform and national lottery game provider Swisslos.
INEOR is a software development company providing advanced software development services using AI and innovative machine learning technologies. INEOR's products are distinguished for their high responsiveness, excellent user experience and ease of maintenance. The combination with LEAP's digital art expertise, excellent 3D soccer visualisations, streaming capabilities, and gaming experience.
GOOOAL's virtual football matches offer everything a football fan can possibly desire. The superb 3D graphics replicate the realism of a real-life football game, creating a fully immersive experience. These visually stunning football matches are highly entertaining and accessible on any mobile device at any time, allowing punters to relax, enjoy the match, cheer on the action, and see whether they've scored a win.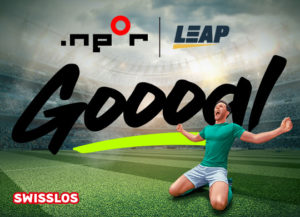 We are therefore absolutely thrilled to announce that thanks to LEAP and INEOR's partnership and collaboration, Swisslos has now launched GOOOAL online, and it is available in English, Italian, French and German.
For more information visit: https://www.swisslos.ch/en/goooal/play/feeds/
⚽ Goooal – win with virtual football matches ⚽ www.swisslos.ch ⚽